Award-winning screenwriter and filmmaker, Barbara Linkevitch has written a compelling, on-going erotic mystery serial told against the seduction of Los Angeles, its food and the heartbreaking child sex trade. Ex-cop turned food reporter Rhea Porter has failed to find and take down the man who kidnapped her sister, 22 years ago. Riddled with guilt and failure, she finds escape in bad men and cheap food and finally finds resurrection in the City of Angels.
Excerpt
It was a little after nine when Rhea scrambled down the cement bank of the LA river where it trickled under the Chavez Bridge. She gestured for Sheena to stay on the ledge above. She kicked around the remains of the camp: a moldy sleeping bag, some squishy old sweatpants, half a dozen torn plastic bags and an empty can of Progresso Light Pot Pie soup. Then she caught the whiff. She knew the smell. She looked around for a body but she knew it would be a little farther away. She took another whiff then looked up the opposite embankment toward the street above.
She went back to Sheena. "You have somewhere you can stay for a few nights?"
"What is it?"
"Probably just a dead dog or raccoon. I'll get animal control to pick it up in the morning. Is there somewhere you can--"
"I can crash downtown--"
"Try the shelter on San--"
Sheena shook her head. Hard.
"They've got better security now--" Rhea tried to convince her but Sheena wasn't having it. Rhea dug around in her pockets and gave Sheena almost seventeen dollars.
"Get some food. And be careful--"
Sheena took the money then suddenly grabbed Rhea and hugged her close. "You too." The she hurried across the street and headed downtown.
Rhea walked across the Chavez Bridge then stopped and looked back at the city skyline. She was just across the street from where she stood that first night in LA. She was outside the sagging Domingos bar. She went around to the back. She checked in trash cans and knee high weeds. No dead dogs, no dead raccoons. The stink was coming from inside – seeping out through a crack in the bolted back door. She went around to the front. That door was jammed tight with twenty years of grime and a two dollar lock. Deciding the smell gave her cause, she jimmied it open. The rotting air kissed her as it escaped the place. She sniffed again - smelling something else - then went inside and closed the door behind her.Her eyes adjusted to the darkness. She saw a bar against one wall, a pool table in the middle of the small room and a closed door in the back of the room. She sniffed the air again, following a scent. Looking closer at the door, she saw a page of smoke slide out from under it. The door was locked. Three kicks knocked it open. A sheer veil of lingering smoke cleared and as Rhea entered a tiny kitchen, revealing a blackened stove against a burned wall. The scorched remains of some lumps of food were fused to a fry pan and a burned can of chili had exploded against the wall. Hormel.
She slid a finger through a layer of soot that covered everything, pitted by drops of water from the ceiling sprinklers that had put out the fire. But they hadn't put it out fast enough. There was a spent extinguisher on the floor, still in the hand of a dead girl lying there. Rhea bent over her, pretty sure the girl was Mexican, around eleven. The girl's other arm reached out to two more dead Mexican girls, huddled together by the bolted back door. They looked about six and seven. Their arms were around each other and their eyes were open. Rhea reeled a little - this was always hard to see. Then she noticed something purple glint in a sliver of moonlight that came though that crack in the bolted door. She looked closer and nearly cried.
Wrapped around one of the girl's wrists was a plastic bracelet with a familiar tin charm on it that advertised "Boom Boom Carneceria. Ensenada. Mexico."
‍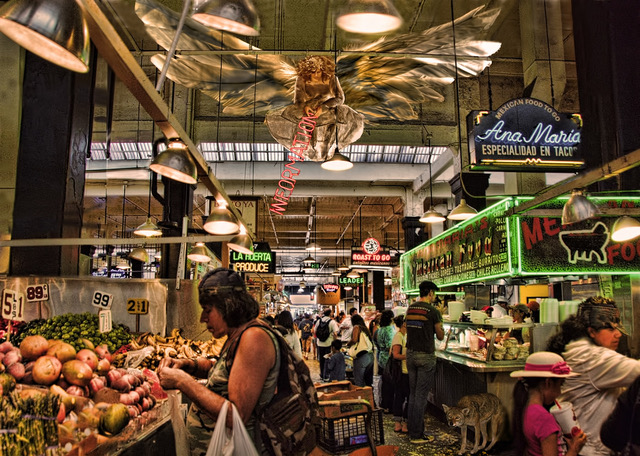 Testimonials
"Captures a universal consciousness, which I think means she's on to something..."
— LA Times
"So hot at times, I had to fan myself."
— Cece Hall, Academy Award winner
"Immensely entertaining..."
— Graydon Carter
"I didn't know whether to take a cold shower, cry or go get a burrito."— Dale Raoul, True Blood
"My heart broke at one point and I was crying."
— Mary Pat Gleason, Emmy Award winner
"Very Evocative."
— Michael Patrick King, producer, writer, director, Sex and the City